The Voyage Home
December 1945 - January 1946
On December 15, 1945, the '794 left Tsingtao, China, in convoy with LST's 796, 764, 833, and LC(FF) 370, to begin the long voyage home. She was not carrying any passengers or cargo as she headed toward Guam enroute to Pearl Harbor. The crew celebrated Christmas at sea, with roast turkey and all the trimmings, just before arriving in Guam. The menu is shown below: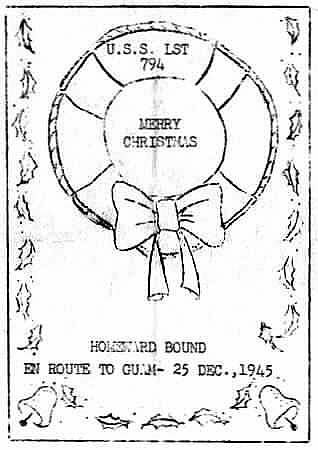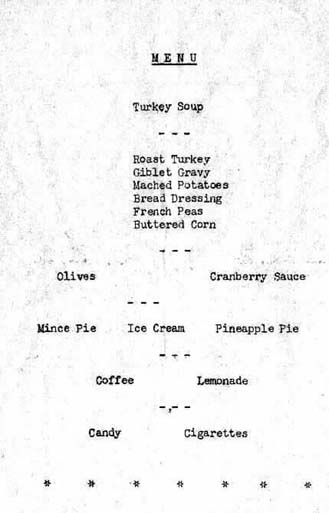 Guam is probably the place where the crew abandoned the jeep that they had salvaged in the states, repaired, and carried all over the Pacific. They had gotten the word that posession of unauthorized equipment on return to the states was a court-martial offense. After a four day stopover in Guam, the '794 departed for Pearl Harbor, accompanied by LST's 764 and 796. The transit from Guam to Pearl harbor took 15 days.
At Pearl Harbor, the tank deck was loaded with Army vehicles to be delivered to Oakland California. On January 18, the LST 794 departed Pearl Harbor for San Francisco. As she got underway, the crew unfurled a 100 foot long "Homeward Bound" pennant from the mast, and the ship's bullhorns blared forth with "California, Here I Come."
The '794 arrived in San Francisco bay on January 28, 1946, looking tired and worn after fourteen months in the Pacific.
LST 794 arrives in San Francisco Bay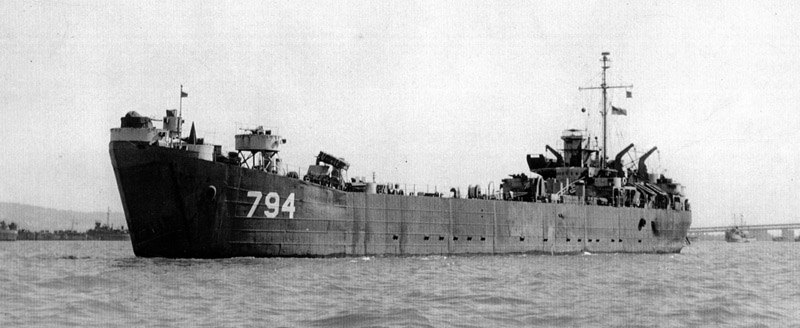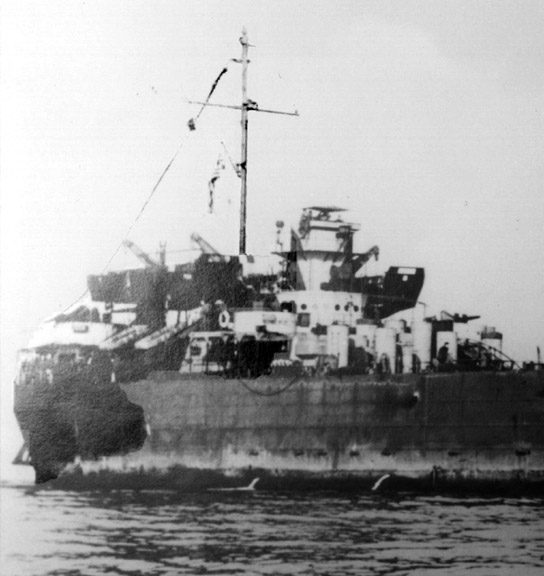 "Homeward Bound" pennant flying from the mast.
The LST 794 remained in San Francisco for three months as her crew was processed individually and in groups through the separation centers that were processing men out of the service as fast as possible. In April of 1946, manned by a caretaker crew, she sailed up the coast with a small convoy of LST's to Portland Oregon. The effects of even a few months of relative inactivity were evident in this convoy, as several ships including the '794 experienced breakdowns of equipment enroute.
The next several months were spent preparing the ship for inactivation. She was decommissioned on July 9, 1946, and was towed to the Columbia River where she joined the Pacific Reserve Fleet. She floated quietly there at anchor for the next thirteen years.
On July 1, 1955, the '794 was given a name, Gibson County, after counties in Indiana and Tennessee - although the only name her crew ever knew her by was LST 794.
On May 23, 1959, when I was two and a half years old, she was towed out to sea off the west coast, used as a practice target by the submarine Rasher (SS 269), and sunk.
The LST 794 had a short and relatively undistinguished career, but she carried her crew to the far corners of the world - into the war and back again - safely, without the loss of a single man. Quite an accomplishment!